How The CPR Climate Emergency Tour Became The
CPR Climate Emergency Cycle-a-Thon
Clearly, I've got a little explaining to do. During last month's third week, and for the second (and final) year running, I commenced a ride on my recumbent trike with a powerful e-assist with the goal of crossing the nation. And again I was forced to turned back, due to unavoidable road hazards.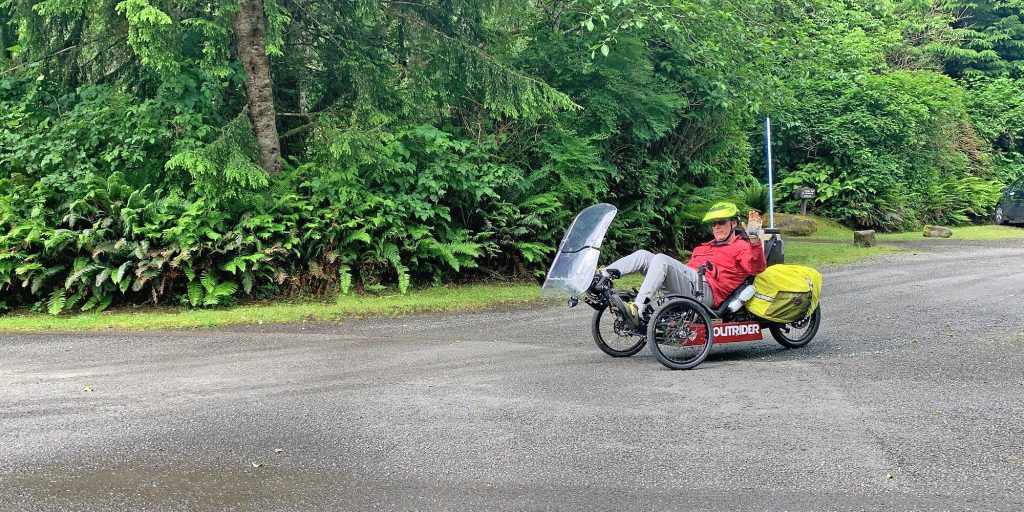 Admittedly, I was hoping to reprise something like my personal experience from long ago, when I'd crossed the continent on a French racing bike that I'd modified a bit for the purpose. Except that this time I'd be riding an exceedingly comfortable set-up, and with a nobler mission to boot – to warn folks along the way about the deepening climate crisis while suggesting a straightforward path to safety. Namely, our Petition to Phase Out GHG Pollution.
But just like last year, I was thwarted by rumble strips, my wide front wheelbase, and semitrucks.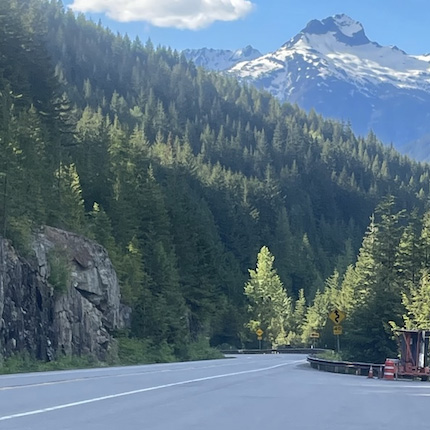 The strips render narrow shoulders exceptionally hazardous, particularly when exceeding 12-15 mph. Indeed, strip-induced vibration snapped a key weld on my left-front fender. And numerous speeding semitrucks transformed my attempts over two days to take the right-side of the right lane into a nearly lethal enterprise. The last straw came as a semitruck pressed me, on Day 2, nearly into a ditch. It barreled past, orange-hued, splattered with oil; and I realized I needed to find another way.
I've since discovered a cause of my error – a too-strong memory. I'd crossed that same most northern west-to-east Washington road decades ago, albeit in perpendicular fashion as I hiked on the Pacific Crest Trail towards Canada. I recalled it to be a gorgeous road as far as I could see, and also wide and safe. And it remains so, at least in parts, including at its crest, heading through North Cascades National Park. As you can see in my photo above.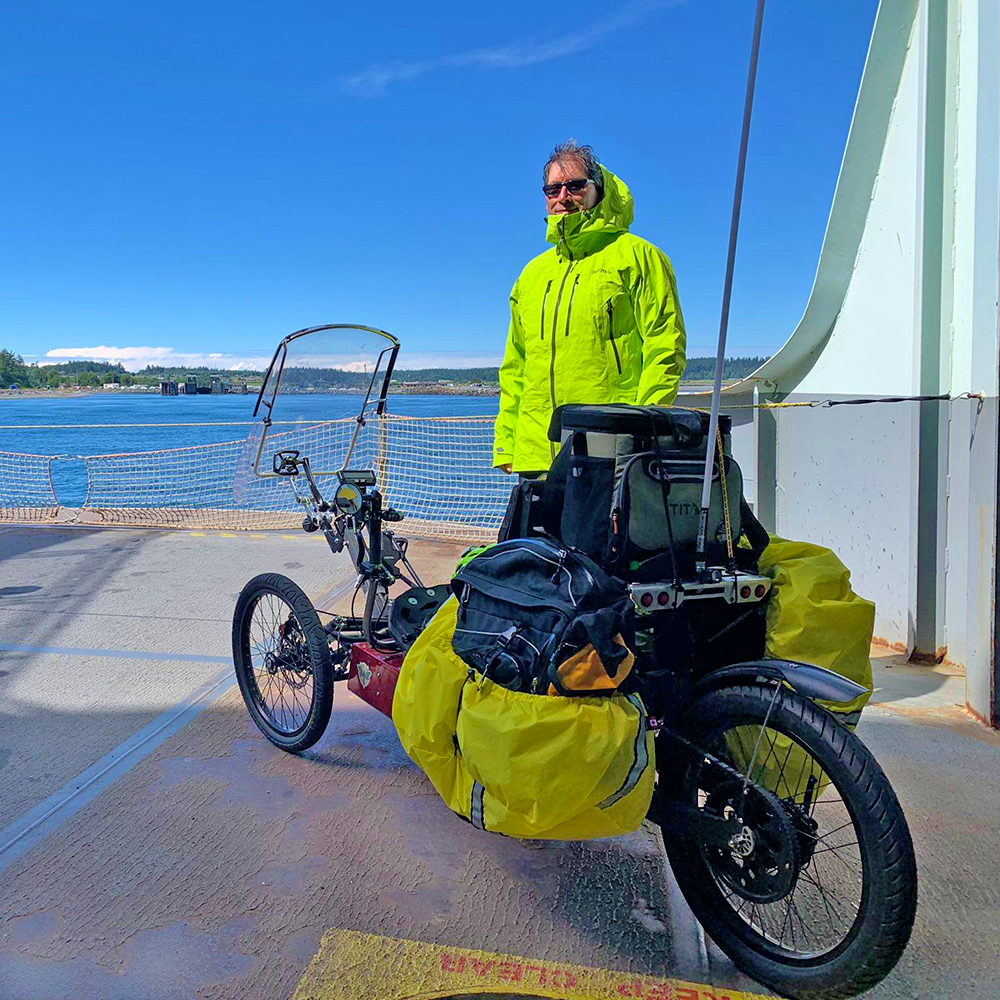 Safe in parts, yes, but not in others. And that is a lesson to be learned, that memory lane, at times, may be fraught.
For completeness, I will note that for a few hours I thought of re-routing to the Great American Rail Trail, which stretches, at least on paper, from the State of Washington to Washington D.C. But then I learned that terrific scheme is but 52 percent complete, and its surfaces may be most conductive to cycling as lower speeds. I find it simply absurd that the federal-state road system, initially established at the behest of cyclists seeking safer and more rapid inter-city passage, amounts now to a gauntlet even for most determined. Separated paths and vastly improved shoulders are critical to the realization of the marked increase in long-distance travel by bikes and trikes that electric assists in theory place within reach of people retaining less-than Olympian levels of fitness.
But, I digress.
That CPR Climate Emergency Tour is now something of a "Cycle-a-thon," by which we hope to encourage your immediate action.
Now I've rediscovered the joy of cycling. It, moreover, appears to relieve a persistent pain in my left knee. Also, I appear to generate an idea every 20 miles. So it should be good for the soul, the body, and the cause. Accordingly, I'll ride a mile for each Petition Endorsement, another for each Campaign Sponsorship, and yet another for each Public Comment through CPRClimate.org in support of the Petition. Only now, I'll do those miles on the flats and hills in and around Eugene.
Our target benchmark? At least 2,857 miles (endorsements, sponsorships, and comments) — the distance (in miles) to Washington D.C., where the threshold determination will be made by EPA — with input, no doubt, from the White House.
Today, we are at 735 individual endorsements, 55 organizational endorsements, 156 sponsorships, and 23 public comments submitted to EPA in support of our Petition. And so, I've got 969 miles already to do. Excellent.
Endorse the Petition, Sponsor the Campaign, Submit Public Comment, galvanize your networks by inviting your family and friends to join us, and let's make this happen, for our children, for their children, for the climate system on which they must depend, and for my left knee.